30" Built-In Column Wine Storage - Panel Ready
BW-30/O
THE ENEMIES OF WINE MEET THEIR MATCH
Temperature, humidity, light, vibration – all these things can harm the flavor of your favorite Chablis or Cabernet. But BW-30/O built-in wine preservation blends superior-grade materials, advanced technologies and a 70-year tradition of American craftsmanship to defeat the enemies of wine. It incorporates our latest features, to protect your investment and increase your enjoyment of every glass, and has available accessories that enhance your wine experience even further.


The BW-30/O has two individually controlled storage zones, so you can store both reds and whites at the proper temperature. Full-extension racks glide smoothly in and out, providing access without agitating wine. UV-resistant glass and cocoa black back wall prevent light exposure. Dual evaporators maintain constant, moderate humidity. And bright LED lighting makes it easy to find your favorite bottle. With fifteen racks and a 146-bottle capacity, the BW-30/O is ideal for any serious wine enthusiast.
less
Product Features
Panel Ready

Just add your custom cabinetry panels and handles, and it blends into the décor of any room.

Evaporadores duales controlan de humedad

Humedad constante y moderada significa no corchos secos o mojados, etiquetas desprendidas – y sin oxidación que roba al vino su sabor apropiado.

Los estantes de deslizamiento de rodillo minimizan la vibración

Los estantes mecen las botellas con seguridad, se deslizan suavemente y hacia adentro y afuera para proporcionar acceso sin agitar el vino.

Control táctil intuitivo

El panel de control táctil le permite mantener temperaturas dentro de un grado del punto de ajuste.

SISTEMA DE FICHAS DE INVENTARIO

Organize your wine collection with these metal tiles, bearing the names of merlot, cabernet and six other popular wines.

Exceptional customer support

Whether you're shopping for appliances or have questions about those you already own, the Sub-Zero, Wolf, and Cove Customer Care team has a reputation for service that's as exceptional as its products
Zonas de almacenamiento independiente controlan la temperatura

Dos zonas de almacenamiento independientes mantienen la temperatura del vino a 1⁰ del punto de ajuste, manteniendo los vinos en precisamente el almacenaje y temperatura de servicio que prefiere.

UV-resistant glass prevents light exposure

UV-resistant, dark-tinted glass and new cocoa black back wall shield wine from the harmful rays that can cause premature aging and even unpleasant odors.

Iluminación LED más brillante

La iluminación interior es de bajo consumo y facilita encontrar las botellas que desea. Además cuenta con una luz de exhibición – sólo enciéndala y su vino se convertirá en un elemento decorativo en la habitación.

Conexión del sistema de seguridad para el hogar

Proteja su inversión significativa en el vino mediante la vinculación con el sistema de seguridad para el hogar en general.

Rigorously tested to ensure dependability

Each and every Sub-Zero appliance is rigorously stress-tested to perform for over 20 years of daily use and is backed by the strongest warranty in the industry.
Especificaciones y Descargas
Pase el cursor sobre la imagen para ampliar. Haga clic en la imagen para una vista ampliada.
Las imágenes interiores son solo para referencia interior.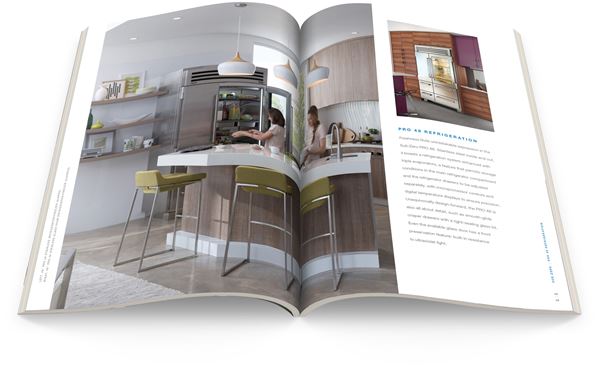 Solicite un Catálogo
Docenas de páginas con fotografías inspiradoras, características de nuestros productos y más, impreso y en línea. Descubra un mundo de productos hermosas, de alto rendimiento y alta calidad para la cocina de sus sueños con esta guía gratuita de Sub-Zero, Wolf, y Cove.
Recibe un Catálogo