36" Ceiling-Mounted Hood - White Glass
VC36W
SLEEK, CONTEMPORARY VENTILATION
The Wolf ceiling-mounted hood in white glass disappears into the ceiling, powerful, yet unassuming. It's the final touch to a thoughtfully designed, professional quality kitchen. Behind its sculpted lines, there's hard-nosed performance that will keep the cooking area bright, clean and fresh, no matter what's on the menu.
Powerful multi-speed blowers whisk away smoke and odors. Bright LED lighting with dual settings illuminates the cooking surface. Control the blower and lighting easily with the remote control. Aluminum mesh filters remove easily and come clean in the dishwasher. Delay-off feature automatically turns the blower off. A blower is required. less
Product Features
Sleek White Glass

The clean look of white glass elevates your kitchen design and disappears into the ceiling for a contemporary look with the power of Wolf.

Opciones de soplador de gran alcance

Personalice el rendimiento de la campana para el trabajo de cocina a mano con múltiples opciones de capacidad de sopladores internos, en línea o remotos.

Filtros seguros para el lavavajillas

Filtros de malla aluminio cubiertos de acero inoxidable cubierto son seguros para el lavavajillas y fáciles de mantener. Un indicador luminoso incluso le avisa cuando los filtros necesitan limpiarse.

Rigorously tested to ensure dependability

Each and every Wolf appliance is rigorously stress-tested to perform for over twenty years of daily use and is backed by the strongest warranty in the industry.
Design Flexibility

No chimney means this hood can be installed over an island or against a wall for greater design flexibility, an appliance meant to blend in instead of stand out.

Bright LED Light Bars

Two LED light bars with two brightness settings illuminate your cooking surface so you can see when everything is done to perfection.

Remote Control

Control the blower and lighting with an ADA compliant remote. The controls on the hood are discreet to keep the sleek look of the vent face.

Exceptional customer support

Whether you're shopping for appliances or have questions about those you already own, the Sub-Zero, Wolf, and Cove Customer Care team has a reputation for service that's as exceptional as its products.
Especificaciones y Descargas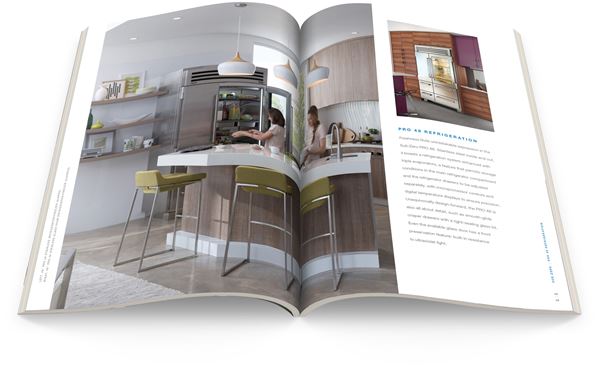 Solicite un Catálogo
Docenas de páginas con fotografías inspiradoras, características de nuestros productos y más, impreso y en línea. Descubra un mundo de productos hermosas, de alto rendimiento y alta calidad para la cocina de sus sueños con esta guía gratuita de Sub-Zero, Wolf, y Cove.
Recibe un Catálogo