48" Classic Side-by-Side Refrigerator/Freezer with Dispenser
CL4850SD/S
Classic Series Refrigeration's iconic grille has served as an irrefutable badge of Sub-Zero's quality for decades. While this distinct symbol of its predecessor's pioneering performance remains, the completely redesigned Classic Series—with its fresh suite of innovative features—reaches new levels of refinement both inside and out.
Product Features
Split Climate™ Intelligent Cooling System

Split Climate™ intelligent cooling system revolutionizes Sub-Zero's already-superior preservation capabilities, keeping food even fresher for longer

Acentos inoxidables elegantes

Los elegantes acentos de acero inoxidable recortan el interior, haciendo juego con el sofisticado exterior

Modo de noche

El modo nocturno optimiza la iluminación interior en función de la luz ambiente detectada, reduciendo el brillo en un 90% en entornos poco iluminados.

External Water and Ice Dispenser

Delivers fresh-tasting, filtered water and ice through an understated external dispenser on the door panel

Adjustable Door Bins

Position adjustable door bins at various heights to accommodate assorted items

Exterior de acero inoxidable

Exterior de acero inoxidable y manijas tubulares o pro a juego con otros productos Sub-Zero, Wolf y Cove
Iluminación LED ClearSight™

El sistema de iluminación ClearSight™ LED ilumina completamente el interior y reduce las sombras

Touch Control Panel

Touch control panel is conveniently located for easy access at the tap of a finger

Compartimiento de lácteos rebatible

Levante la base de los compartimentos abatibles para productos lácteos para guardar artículos más altos en el estante inferior

Modo Max Ice

Active el modo Max Ice para aumentar temporalmente la producción de hielo.

Funciones habilitadas para Wi-Fi

Las funciones habilitadas para Wi-Fi proporcionan acceso remoto desde su dispositivo móvil

Garantía de líder del sector

Sub-Zero ofrece una garantía completa de dos años líder en el sector para los electrodomésticos, junto con una garantía completa de cinco años para el sistema sellado y una garantía limitada de doce años para el sistema sellado.
Especificaciones y Descargas
Pase el cursor sobre la imagen para ampliar. Haga clic en la imagen para una vista ampliada.
Las imágenes interiores son solo para referencia interior.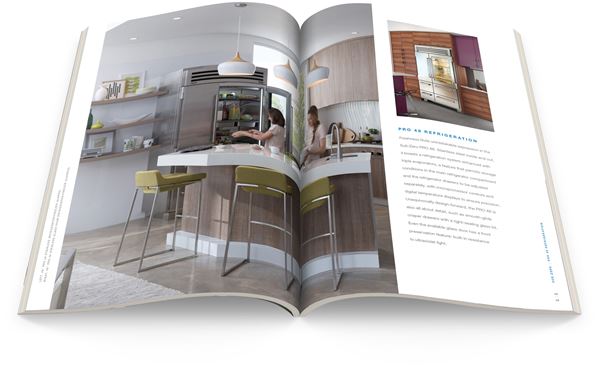 Solicite un Catálogo
Docenas de páginas con fotografías inspiradoras, características de nuestros productos y más, impreso y en línea. Descubra un mundo de productos hermosas, de alto rendimiento y alta calidad para la cocina de sus sueños con esta guía gratuita de Sub-Zero, Wolf, y Cove.
Recibe un Catálogo