30" M Series Contemporary Stainless Steel Handleless Convection Steam Oven - Plumbed
CSOP3050CM/S
Product Features
Elegant modern aesthetics

The elegant, modern aesthetics pair perfectly with 24" and 30" Wolf cooking products as well as a full suite of similarly styled Sub-Zero and Cove appliances.

Features both plumbed and non-plumbed options

New model line-up features both plumbed and non-plumbed options for maximum installation flexibility.

Save up to 50 personalized recipe presets

Save up to 50 personalized favorite recipe presets.

1750-watt recessed broil element

1750-Watt recessed broil element.

Three full-extension rack positions and one standard position

Inside, three full-extension rack positions and one standard position allow easy access and increased cooking flexibility.

Sonda de temperatura

La sonda de temperatura le alerta cuando su plato ha alcanzado la temperatura deseada.
New, contemporary styling

All-new, contemporary styling features a completely handleless look that incorporates a motorized door system.

Sleek Full-color LCD Touchscreen

A sleek 8" full-color LCD touchscreen adds refinement to the oven's style, while updated and intuitive controls guide the user through various modes and features. Easily customize the user interface with drag-and-drop tile options.

11 Cooking Modes

Cooking modes include Steam, Convection, Broil, Slow Roast, Bread & Pastry, Proof, Sous Vide, Reheat, Warm, Gourmet, and Gourmet+. Additional modes include Wellness, Cleanse, and Steam Clean.

2.4 cubic-foot oven cavity

The 30" model offers a generous 2.4 cubic-foot oven cavity and 30% more space, allowing multiple dishes to be placed side by side at once. The 1889-Watt dual convection system ensures even, multi-rack baking and consistent results.

Large 40-fluid ounce water tank

The large 40-fluid ounce (1.2-liter) tank holds enough water for 4-hours of uninterrupted steam cooking.
Especificaciones y Descargas
Pase el cursor sobre la imagen para ampliar. Haga clic en la imagen para una vista ampliada.
Las imágenes interiores son solo para referencia interior.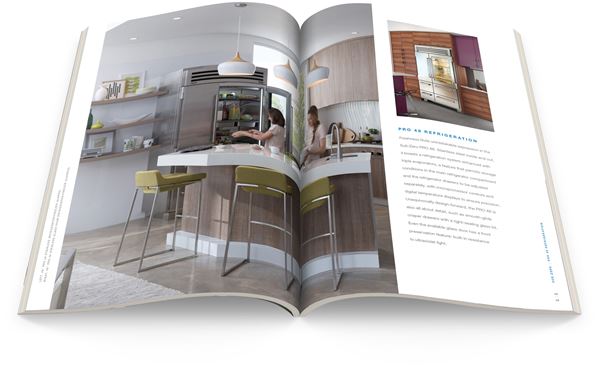 Solicite un Catálogo
Docenas de páginas con fotografías inspiradoras, características de nuestros productos y más, impreso y en línea. Descubra un mundo de productos hermosas, de alto rendimiento y alta calidad para la cocina de sus sueños con esta guía gratuita de Sub-Zero, Wolf, y Cove.
Recibe un Catálogo
COMIENZA TU PROYECTO EN NUESTRO SHOWROOM
Fitchburg, WI (53711) Change Location
Profesionales del Diseño Premiados
Puede que estés lleno de ideas para tu nuevo proyecto de cocina. Pero el diseñador correcto te mostrará posibilidades que nunca imaginaste, y te ayudará a hacer todo el proceso tan suave y fácil como sea posible. Estos profesionales del diseño han sido reconocidos como ganadores regionales en prestigiosos Concursos de Diseño de Cocina de Sub-Zero, Wolf, y Cove. Da Clic en "Más Profesionales del Diseño" para una lista completa de los mejores diseñadores y las firmas de diseño en tu área.
Fitchburg, WI (53711) Cambiar Locación
Localizamos comerciantes específicos cerca de ti, la Cocina Viviente presenta electrodomésticos de Sub-Zero, Wolf, y Cove en ambientes de cocina reales para seleccionar los productos correctos para la cocina de tus sueños. Ve dentro de una Cocina Viviente.